Hardwood flooring installation & Parquet floor fitting London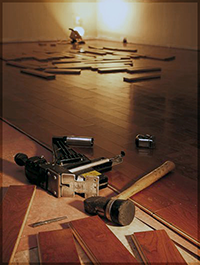 Choosing to install wood flooring can enhance the classic elegance and beauty of any home or business.
Hardwood floor installation is a popular flooring choice for many reasons: It is attractive, long-lasting, and low maintenance. If you have considered adding gorgeous wood floors to your home please do not hesitate and contact Surrey Flooring Specialists today for a free estimate. Our skilled professionals are available to install hardwood floors in residential and commercial premises.
Surrey Ashford Brockham Banstead TW15 Camberley Cobham Chertsey GU15-17 Dorking RH4 Egham TW18 Epsom KT17-19 Esher KT10 Farnham GU9 Godalming GU7 Guildford GU1-4 Haslemere GU27 Horley RH6 Horsham RH6 Kingston-upon-Thames KT1-2 Leatherhead Long Ditton Oxshott Peaslake KT22 Redhill RH1 Reigate Ripley RH2 Staines Shere Sunbury-on-Thames TW17-18 Walton-on-Thames KT12 Weybridge KT13 Woking GU21-22 London (South West) Barnes SW13 Battersea SW11 Cheam SM3 Clapham SW4 Fulham SW6 Hampton TW12 Isleworth Kew TW7 Merton SW19-20 Morden SW19-20 New Malden KT3 Putney SW15 Richmond TW9 Roehampton SW15 Surbiton KT5-6 Sutton SM2 Teddington TW11 Tooting SW17 Twickenham TW1 Wandsworth SW18 Wimbledon SW19 London (South) Battersea SW11 Carshalton SM5 Cheam SM3 Clapham SW4 Coulsdon CR5 Croydon CR0-1 Mitcham CR4 Streatham SW16 Wandsworth SW18 Worcester Park KT4 London (Central) Bayswater W2 Belgravia SW1 Bloomsbury WC1 Chelsea SW3 Kensington W8 Knightsbridge SW3 Mayfair WIJ-K Pimlico SW1 Southwalk SE1 Westminster SW
If you don't see your location here, please call us or drop us or email us to find out if we can reach you.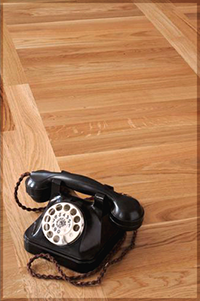 Surrey Flooring Services offer a bespoke design, supply and fit all types of hardwood parquet flooring for Commercial ,Heritage or Domestic interiors. Parquet wood blocks can be installed in a number of geometric patterns such as Classic Herringbone, Brick style, Ladder, Basket weave and Chevron .We also specialise in fitting of Versailles and Oak panels. You can choose the border from single to double blocks, or even have solid wood plank in preferred width for a border. In addition we can fit a strips from other coloured timbers such as Wenge ,Walnut ,Mahogany wood which are laid between the parquet pattern and the border. We provide complete parquet floor replacement - if you want to have your old wood flooring replaced by a new floor, parquet floor can be a great solution. Parquet flooring has its unique style, elegance and beauty. Parquet wood flooring is a great choice and can be stained, sanded and refinished for many times and will last for decades to come.
Many types and designs of parquet floors are available, from custom-made originals to standard patterns, but they are all installed the same way - set in adhesive on a concrete or wood subfloor. The effort can be very rewarding because parquet can be used to create shapes and decorations not possible with other wood flooring.
Read more >>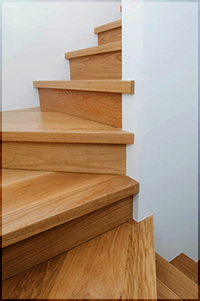 During a hardwood floor installation many people become frustrated that their staircases does not match the flooring and looks old and worn when compared with new floor . If you are looking for an easy and instant way to update the look of your stairs Surrey Flooring Services gives you way to remodel without removing the existing treads. So if your stairs are covered in carpet or worn-out wood, get an updated look that comes with the beautiful installed hardwood covered over existing structure. The treads can be made out of a single solid piece of wood or by installing regular strips of hardwood with a round edge nose. Star nosing protect your stairs by absorbing most of the impact from pedestrian traffic. The risers can also be made out of a single solid piece or, if required, made out of regular hardwood boards. When the installation is done the wood will be sanded stained and coated.
Read more >>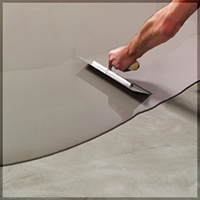 Everybody who plans to install hardwood flooring in their homes or apartments should know that Your new installed hardwood floor will look so good, how well made your subfloor. It does not matter by what method will set your floor, whether it be glued, nailed or installed as a floating floor. When installing a solid or engineered nail down flooring a wooden subfloor is required. The most common wooden subfloor is plywood, particle boards or tongue and groove floorboards . On a concrete base the subfloor will be secured with adhesive or screws. In some cases a sound barrier or moisture barrier could be required to be installed under the subfloor. If your concrete subfloor has small or big cracks, we will repair it for you. Our skilled team always put primer and fill in low spots with a high quality floor levelling compound or Latex . A good chosen primer helps make a new concrete subfloor with your current cement floor much stronger.
Read more >>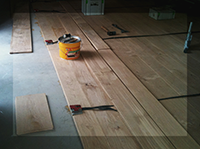 The best wood floor for glue down installation is the engineered wood. The multiple layers of different woods used in fabrication will keep the wood straight after it is removed from the box for a longer period, just enough time for the glue to dry. For smaller areas, gluing regular hardwood to a concrete slab is possible. The engineered wood comes in a prefinished and an unfinished version. To install glue down floors, the installer will check the moisture level of the concrete using a moisture testing kit. After determining that the concrete has the right moisture they will proceed with the floor installation. In some buildings a sound barrier or moisture barrier installation will be required prior to the wood installation. The glue has to be an oil based product to avoid cupping on the floor after installation. A fair amount of glue has to be used that will cover the subfloor evenly to assure a solid quality installation.
Read more >>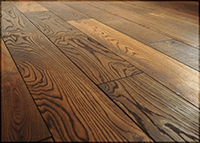 Floating and non-floating installation. This type of wood is called Engineered because it is made out of layers of different types of wood with a thin layer of the desired species on top. The engineered wood is preferred for the glue down installation in situations where raising the floor to accommodate a subfloor is not an option. It can also be nailed down to a wooden subfloor. The engineered wood is usually prefinished in the factory but you can also find it in the unfinished option. When shopping for a prefinished engineered floor you have to always keep in mind that time and traffic will ultimately affect the finish and the floor will have to be refinished. That is why you have to buy the engineered wood that has the thickest top layer, because that is the sanding layer. With the economy down, some of the manufacturers are making the top layer thinner to lower the cost of production. From ¼ inch a few years ago, now we find products with 1/8 inch and even 1/16 inch top layer. The last option is impossible to refinish without exposing the lower layers. The most common engineered wood installation can be found in buildings with a screed and concrete base. This type of wood will keep the level closer to the slab concrete making the transition from wood to carpeted rooms or tiled areas nice and smooth. If a regular hardwood floor will raise the level with about 1.3/4 inch, the engineered will stay within the ½ inch to ¾ inch range. The way the wood is designed will keep the boards straight for the duration of the installation until the glue hardens.
Read more >>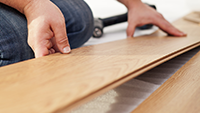 Laminate floors are very popular due to their easy installation and inexpensive price and ultimately for their wood look-a-like quality. A good quality laminate product will really trick the eye and make the floor look like the real deal. Usually, laminate floors are made out of recycled paper and are installed with a quick click locking device. The result is going to be a floating floor as the installation does not require any nails or glue. Before installing a laminate floor, the installer is going to check if the levelling of the subfloor (concrete or plywood) is good or at least fair. They will install a sound barrier that will reduce the noise and add comfort when walking on the floor, after which they will proceed with the laminate floor installation. Some expansion space is required, but humidity and moisture does not affect the laminate flooring as much as the real hardwood. That is why laminate is preferred in basements and garden units.
Read more >>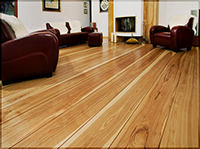 When talking about hardwood flooring installation we are referring to solid wood flooring installation of any type or species of wood, with an unfinished or a factory prefinished face. In this category the only major difference will be between the unfinished and the prefinished hardwood floors, as the thickness or the width of the wood planks does not affect the process of installation very much. In the unfinished category the Hardwood floor instalation (fitting) most common wood is Oak, Ash, Pine, Maple, Cherry, Walnut. Hardwood floors are typically installed with hidden nails onto a wooden subfloor base and over existing old floorboards. In wider planks construction glue is required to compensate for the distance between the nails. Even though the wood installation looks like a very complex process, for the flooring professional it is quite an easy task. As soon as the type of the wood is determined by the home owner, they will look for a starting point (straight line wall), calculate the necessary space for expansion and start laying down the wood. The prefinished wood floors are going to take longer to be installed because the installer has to make sure the prefinished face is protected at all time to avoid dents or scratches.
Read more >>