Glue down flooring London and Surrey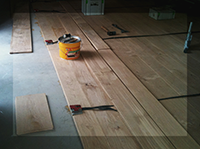 The best wood floor for glue down installation is the engineered wood. The multiple layers of different woods used in fabrication will keep the wood straight after it is removed from the box for a longer period, just enough time for the glue to dry. For smaller areas, gluing regular hardwood to a concrete slab is possible. The engineered wood comes in a prefinished and an unfinished version. To install glue down floors, the installer will check the moisture level of the concrete using a moisture testing kit. After determining that the concrete has the right moisture they will proceed with the floor installation. In some buildings a sound barrier or moisture barrier installation will be required prior to the wood installation. The glue has to be an oil based product to avoid cupping on the floor after installation. A fair amount of glue has to be used that will cover the subfloor evenly to assure a solid quality installation.
Floating floor – quick click. A floating floor with a quick click system could be either a Laminate floor or an engineered floating floor. Floating floors are usually installed on a concrete subfloor over a sound barrier. The quick click installation does not require glue or nails. The floor will be installed like a puzzle with a snap in place mechanism. The quick click floating floor is preferred in apartments and high rise buildings where space will not allow for a major construction project.
Glue down flooring, Floating floor at: Kingston upon Thames, Surbiton, Hampton, Richmond, Twickenham, Hampton Court, Sunbury on Thames, Putney, Teddington, Wimbledon, Surrey and other London areas.
<< Hardwood flooring installation & Parquet floor fitting London