Stairs wood cover and staircases conversion London and Surrey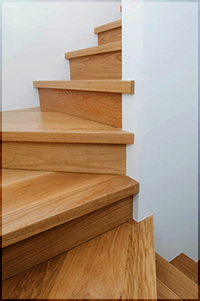 During a hardwood floor installation many people become frustrated that their staircases does not match the flooring and looks old and worn when compared with new floor . If you are looking for an easy and instant way to update the look of your stairs Surrey Flooring Services gives you way to remodel without removing the existing treads. So if your stairs are covered in carpet or worn-out wood, get an updated look that comes with the beautiful installed hardwood covered over existing structure. The treads can be made out of a single solid piece of wood or by installing regular strips of hardwood with a round edge nose. Star nosing protect your stairs by absorbing most of the impact from pedestrian traffic. The risers can also be made out of a single solid piece or, if required, made out of regular hardwood boards. When the installation is done the wood will be sanded stained and coated.
Stairs wood cover & staircases conversion at: Kingston upon Thames, Surbiton, Hampton, Richmond, Twickenham, Hampton Court, Sunbury on Thames, Putney, Teddington, Wimbledon, Surrey and other London areas.
<< Hardwood flooring installation & Parquet floor fitting London