Engineered wood floor London and Surrey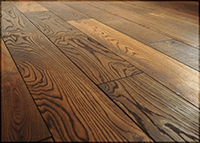 Floating and non-floating installation. This type of wood is called Engineered because it is made out of layers of different types of wood with a thin layer of the desired species on top. The engineered wood is preferred for the glue down installation in situations where raising the floor to accommodate a subfloor is not an option. It can also be nailed down to a wooden subfloor. The engineered wood is usually prefinished in the factory but you can also find it in the unfinished option. When shopping for a prefinished engineered floor you have to always keep in mind that time and traffic will ultimately affect the finish and the floor will have to be refinished. That is why you have to buy the engineered wood that has the thickest top layer, because that is the sanding layer. With the economy down, some of the manufacturers are making the top layer thinner to lower the cost of production. From ¼ inch a few years ago, now we find products with 1/8 inch and even 1/16 inch top layer. The last option is impossible to refinish without exposing the lower layers. The most common engineered wood installation can be found in buildings with a screed and concrete base. This type of wood will keep the level closer to the slab concrete making the transition from wood to carpeted rooms or tiled areas nice and smooth. If a regular hardwood floor will raise the level with about 1.3/4 inch, the engineered will stay within the ½ inch to ¾ inch range. The way the wood is designed will keep the boards straight for the duration of the installation until the glue hardens.
Engineered wood floor at: Kingston upon Thames, Surbiton, Hampton, Richmond, Twickenham, Hampton Court, Sunbury on Thames, Putney, Teddington, Wimbledon, Surrey and other London areas.
<< Hardwood flooring installation & Parquet floor fitting London