Laminate flooring London and Surrey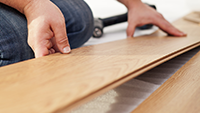 Laminate floors are very popular due to their easy installation and inexpensive price and ultimately for their wood look-a-like quality. A good quality laminate product will really trick the eye and make the floor look like the real deal. Usually, laminate floors are made out of recycled paper and are installed with a quick click locking device. The result is going to be a floating floor as the installation does not require any nails or glue. Before installing a laminate floor, the installer is going to check if the levelling of the subfloor (concrete or plywood) is good or at least fair. They will install a sound barrier that will reduce the noise and add comfort when walking on the floor, after which they will proceed with the laminate floor installation. Some expansion space is required, but humidity and moisture does not affect the laminate flooring as much as the real hardwood. That is why laminate is preferred in basements and garden units.
Laminate flooring London at: Kingston upon Thames, Surbiton, Hampton, Richmond, Twickenham, Hampton Court, Sunbury on Thames, Putney, Teddington, Wimbledon, Surrey and other London areas.
<< Hardwood flooring installation & Parquet floor fitting London