Hardwood floor fitting London and Surrey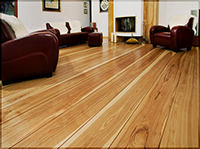 When talking about hardwood flooring installation we are referring to solid wood flooring installation of any type or species of wood, with an unfinished or a factory prefinished face. In this category the only major difference will be between the unfinished and the prefinished hardwood floors, as the thickness or the width of the wood planks does not affect the process of installation very much. In the unfinished category the Hardwood floor instalation (fitting) most common wood is Oak, Ash, Pine, Maple, Cherry, Walnut. Hardwood floors are typically installed with hidden nails onto a wooden subfloor base and over existing old floorboards. In wider planks construction glue is required to compensate for the distance between the nails. Even though the wood installation looks like a very complex process, for the flooring professional it is quite an easy task. As soon as the type of the wood is determined by the home owner, they will look for a starting point (straight line wall), calculate the necessary space for expansion and start laying down the wood. The prefinished wood floors are going to take longer to be installed because the installer has to make sure the prefinished face is protected at all time to avoid dents or scratches.
Hardwood floor fitting at: Kingston upon Thames, Surbiton, Hampton, Richmond, Twickenham, Hampton Court, Sunbury on Thames, Putney, Teddington, Wimbledon, Surrey and other London areas.
<< Hardwood flooring installation & Parquet floor fitting London