Staining wood floor and finishes in London, Surrey.
Staining wood is not to be confused with the clear coats of finish that are applied to a floor to preserve it.A stain is actually the colouring of your hardwood floor to a tone other than its natural colour or tone. This is a separate step that can be added to the refinishing process.
Many homeowners desire darker, richer looking floors to complement their homes. A darker floor often is perceived as more stately. Burgundies and browns are the most common stains applied. Regular oak floors can be made to look more exotic.
We offer a fine selection of stains most commonly used within the industry that are tested and compatible with the industrial and domestic floor finishes applied today. Please understand that the staining process requires very special sanding and preparation techniques. This process if requested is at additional cost.
A stained floor properly done is not only rich but beautiful. Again, please browse through our photo gallery and see a few of the floors we have stained and the rich enduring results.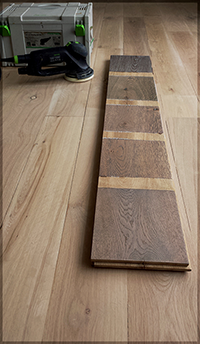 Staining floor is an excellent way to change the look of hardwood flooring without losing the natural beauty and character of the wood floor. Style changes. Fortunately wood flooring is always in style, whether yours are natural or stained a darker tone. Having said that, Interior Design trends will sometimes favour one end of the colour spectrum over another. If change is what your after than nothing adds more class, tradition or originality to your home than a custom stain to your hardwood floors. A custom stain allows you the flexibility of choosing tan, brown or other woodsy colours associated with wooden floors. Flooring stains are available in an almost endless range of shades. Once applied the tones may vary slightly, depending on the type of wood being stained. For example, a soft wood floor made from Pine or Birch may stain darker and appear richer in colour due to the fact that the stain penetrates deeper. At the same time, the soft wood floors can have a tendency to be blotchy when stained, making an even application of the stain difficult. Typical density hardwood floors like Oak stain easily and ?consistently. In fact the colour samples provided by the stain manufacturer are produced on Oak. Whether or not your hardwood will stain consistently is not something you will have to worry about as our staff will be able to determine what type of hardwood floors you have, and recommend a stain to match the colour scheme you desire.
If you think you would be interested in getting a custom stain done on your floors give us a call and we would be more than happy to come by and help you pick out a stain that's right for you.
Wood floor Finishes
When choosing the right type of finish for your wood floors, consider your lifestyle and maintenance preferences. All wood floors will require routine maintenance, such as sweeping or dust mopping, to keep them looking beautiful and new, but different wood flooring finishes will have a big impact on how you care for your floor long-term, as well as how your floor will look in the years to come. Flooring finishes are durable, water-resistant, and require minimal maintenance. Surface finishes are blends of synthetic resins. These finishes most often are referred to as urethanes or polyurethanes, and remain on the surface of the wood to form a protective coating. We recommend to consider three main options when it comes to wood flooring finishes.
Firstly there is lacquer / varnish which is a durable, low maintenance option but can be prone to scratching.
Secondly there is Oil which is slightly less durable but easier to repair if the floor starts to look a bit tired or scratched.
And finally there is UV Oil which is a bit of a compromise between the two. Most lacquers, even matt lacquers give an appearance of an obvious coating to your floor, whereas oils sink in, enhancing the grain of the wood and giving a more natural look. The reason that lacquer looks more obvious is that it effectively sits on top of the wood, rather than sinking in. What this means is that lacquer has a tendency to get worn looking in high traffic areas. What happens is that the traffic effectively sands away the lacquer and leaves scratches on the surface. The only way to repair this damage is to re-sand the whole floor and start again.
We use BonaKemi , Blanchon and Junckers water based varnish, it comes in different grades of wear and also different levels of sheen. Bona are the leading manufacturer in water based varnishes.
?Oil on the other hand, which is effectively the modern day successor to the old fashioned wax option, sinks into the wood grain. Oil finished floors can be repaired by adding more oil on the top off existing oil when needed. Oil is easy to apply and an effective way of keeping your wooden floor in great condition. UV oil has the advantage of having a low build up and comes in a low gloss finish which helps mask slight imperfections caused by wear and tear. A wood floor finished with UV oil can be easily repaired at any time with a simple wipe of oil on a soft, dry, cotton cloth.
We use Osmo and Saicos hardwax oil for finishing some flooring, this is the most durable and best looking hardwax oil available, it gives a more natural look to some types of wood and with the correct maintenance and care may never need sanding again.
Staining wood floor and finishes: Kingston upon Thames, Surbiton, Hampton, Richmond, Twickenham, Hampton Court, Sunbury on Thames, Putney,Teddington, Wimbledon, Surrey and other London areas.