Premium stair cladding and stair flooring London
Here at Surrey Flooring Services we offer premium stair cladding and stair flooring made from the highest quality timbers. This makes it resilient, strong, and above all incredibly beautiful.
Our specialists cut each element of the stair cladding individually on-site providing a high quality product that is second to none.
We also often adjust the stair cladding to the previously laid floor and finish it in the colour desired by the client.
Stair Cladding is ideal for transforming your existing staircase into a modern masterpiece. It's a quick and easy way to cover up your current stairs and achieve that luxury home look. Say goodbye to your tired, outdated, existing stairs and welcome a modern stair look into your home! First and foremost, solid or engineered oak or any hardwood looks stylish and elegant! Furthermore, it's a reliable and solid surface that won't break or tear away, even after many years of use.
As mentioned before, solid oak treads and risers can be easily fitted over your existing stairs, making it a far more cost-effective option compared to building a new oak staircase.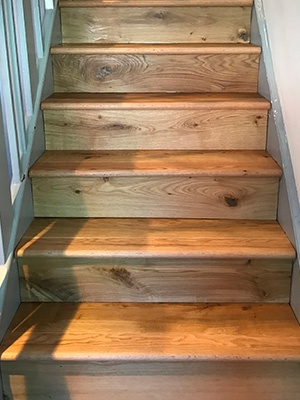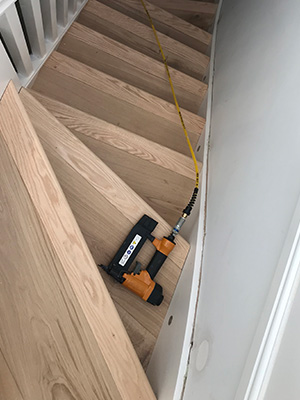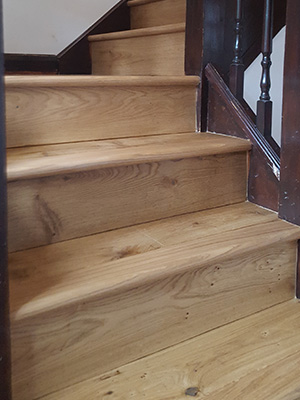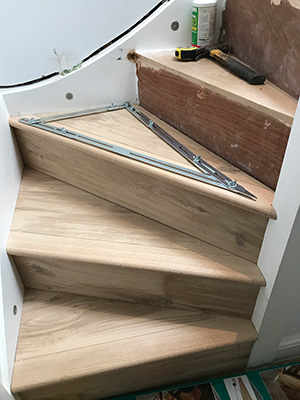 Give your existing stairs the face-lift they deserve. Contact us to find out more about installing oak stair cladding into your home so you can finally create the staircase of your dreams!
We can help you source the best materials for a lower price, our primary job is to install the flooring or stair cladding for you. This means you can either buy the materials separately or allow us to shop on your behalf.
Stair cladding and stair flooring in Kingston upon Thames, Putney, Hampton, White washed hardwood floor in Surrey- Surbiton, Kensington, Wandsworth, Putney, Wimbledon, Kingston upon Thames, Hampton Court, Esher, Weybridge, Sunbury on Thames, Thames Ditton, Twickenham, Teddington ,New Malden, Hampton and London